2015 Winners
AToMiC Engagement: SILVER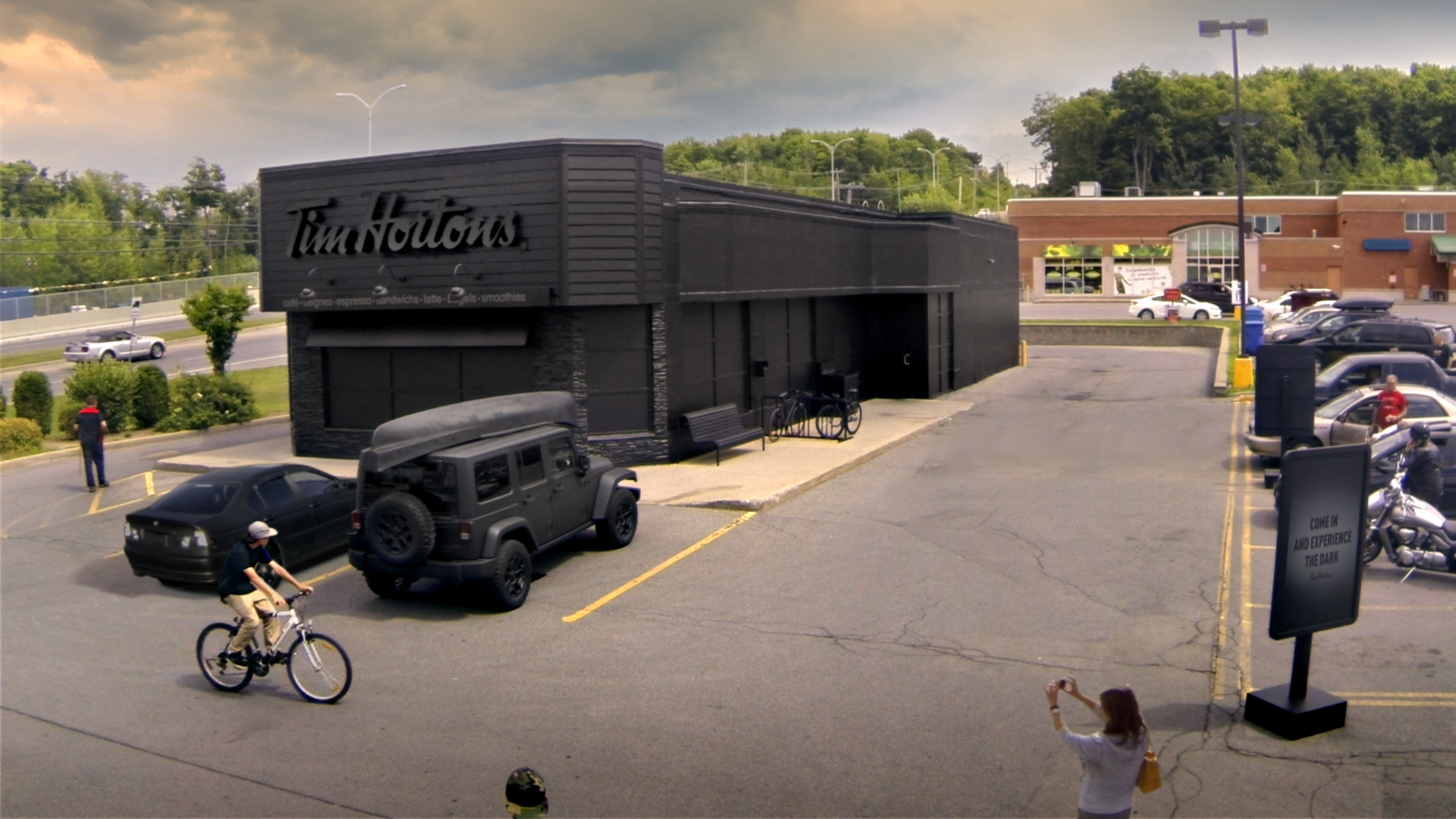 Tim Hortons - Dark Store
Date of implementation or launch:
August 15, 2014
Objectives and challenges:
Tim Hortons recognized that Canadians' coffee tastes were changing. Even though Tim Hortons enjoys a 78% share of Canada's QSR brewed coffee market, their customers' loyalty was being challenged by a desire to taste the new and darker coffees offered by their competitors. The average Canadian now drinks more than one blend, and in order to maintain their leadership position, Tim Hortons launched their first new blend in 50 years – Dark Roast. The challenge was to excite customers and incent them to try the new Dark Roast by highlighting its bold, distinct taste. The objective was to introduce Dark Roast Coffee in way that further proved Tim Hortons' position as Canada's coffee experts.
Insight and concept:
As Canada's coffee experts, it made sense that Tim Hortons would introduce Dark Roast in a way that demonstrates their understanding of how people respond to taste. So they created an environment in which customers could really focus on the taste of Tim Hortons new Dark Roast. The Dark Experiment was based on the idea that removing one sense supercharges your other senses, the agency completely blacked out a Tim Hortons store, so their customers could experience the ultimate taste test in complete darkness. With Tim's customers' senses of taste heightened, they would be able to truly appreciate the new taste of Tim Hortons Dark Roast.
Execution:
The agency completely transformed a real Tim Hortons restaurant into a "Dark Store". On the outside, it looked exactly like a regular Tim Hortons only it was entirely black. They even blacked out the windows, so no light could get in. Customers gathered in curiosity, but ventured inside the restaurant, undeterred. It was pitch black inside and the only thing guiding them in the dark was the voice of a Tim Hortons server. They all overcame any confusion and nervousness, and a server wearing night vision goggles guided them to the counter. There, they were served a Dark Roast coffee and asked to comment on it. JWT then surprised them by turning on the lights, and revealing that they were drinking Dark Roast. They filmed the entire "Dark Experiment", and released it on YouTube. They also followed this up with shorter versions edited as television ads.
Results and impact:
The Dark Store kick-started one of the most successful Canadian product launches of 2014. Within the first month the video went online, it was the #1 ranked Youtube video in Canada. To date, the video has been viewed 2,956,614 times. #TimsDark became the #1 trending topic on Twitter in Canada and had over 156 millions social media impressions. There have also been over 91 million media impressions across North America from over 350 different news outlets. But most importantly, within four months of the launch, Tim Hortons has already served 52 million cups of Dark Roast in a country of just 35 million people.
CREDITS
Client: Tim Hortons
Client Team: Peter Nowlan, Glenn Hollis, Joanne Stewart, Karen Paradine Creative Agency: JWT Canada Chief Creative & Integration Officer: Brent Choi Executive Creative Director: Ryan Spelliscy Creative Directors: Paul Wales, Matt Syberg-Olsen Art Director: Dan Bache Copywriter: Henry Park VP Head of Integrated Broadcast: Andrew Schulze Senior Broadcast Producer: Elana Olavesen Account Team: Darrel Hurst, Renee Ray, Cameron Stark Production Team Director: Neil Tardio Production Company: Partners Film Company Executive Producer: Aerin Barnes Line Producer: Peter Oad Post-Production Facility: Alter Ego Editor: Geoff Ashenhurst / Married to Giants Music: Tattoo Sound & Music Audio Post Director and Music Supervisor: Tyson Kuteyi Media Company: Mindshare
Have questions? Need help?