2015 Winners
AToMiC Collaboration: SILVER
Tech Breakthrough: GOLD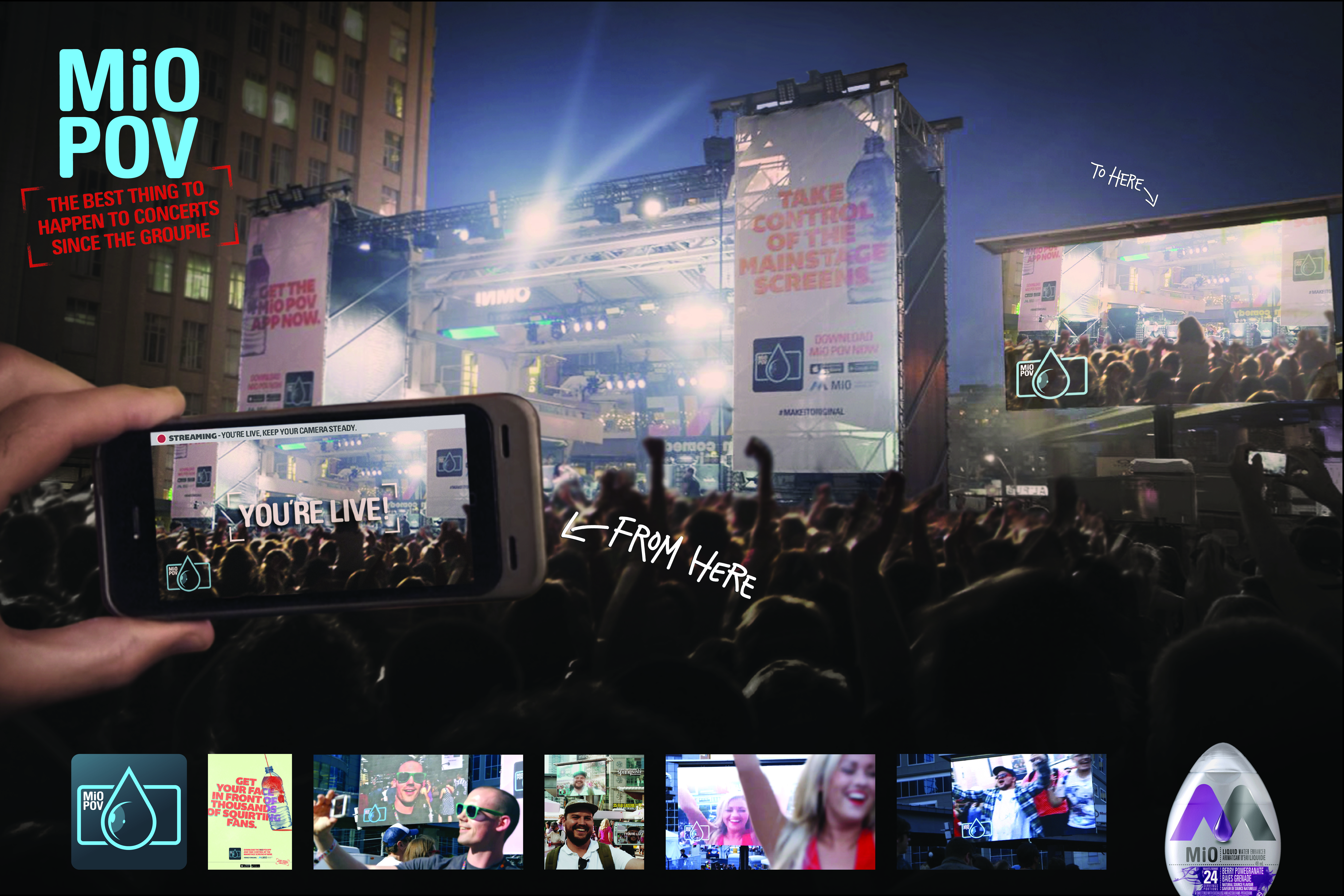 MiO POV
Date of implementation:
June 19, 2014
Objectives and challenges:
By the end of 2013, awareness of MiO had reached 88%, but the category was growing crowded and the penetration rates had stalled. The agency needed to do something different in 2014. MiO's past campaigns made the brand famous but didn't get MiO into enough hands. So this year, they needed to not just pique interest but also incite trial.
To drive trial, they wanted to own the conversation in places they knew their target would be and get them to experience the brand in a new way.
Insight and concept:
The new campaign platform "Make It Original," an acronym based on the product name, reinforces MiO's commitment to originality and letting people to do it their way.
To introduce this platform and incite trial, the agency chose places where they target audience was doing their own thing. The agency decided to partner with NXNE (North by Northeast), Toronto's premier music festival. But rather than just handing out samples and slapping a logo on venue posters, they wanted to do something that had never been done before − something that would enable our target to "Make It Original" themselves. So they created MiO POV: a mobile app that allows user to live stream their view of a concert from their mobile phone straight to the mainstage screens − in real time with no delay.
Execution:
Taxi activated MiO POV at the free NXNE kick-off headline concert at Yonge‐Dundas Square in Toronto, which featured a line-up of the festival's most popular bands.
Once the user downloaded the app, they were prompted to broadcast their experience of the show from wherever they were for everyone else to see. In essence, the agency went from having four cameras covering the show to thousands by putting a camera in every fan's hand. A live production crew monitored these feeds and pushed them live to seven huge screens surrounding the stage.
Instead of passively watching the concert, MiO POV gave fans the chance to become part of the show by using MiO POV to broadcast their unique perspective for all to see.
Results and impact:
Taxi's attempt to own the conversation at NXNE was a resounding success. Although the app was only available for one night, it still hit a very impressive 9.12% download rate, allowing them to capture over 45 minutes of footage shot from our fans' points of view, which Taxi then repurposed in promotional videos that were released online.
For the week of NXNE, they gave out nearly 64,000 samples, definitely delivering on their promise to get MiO into the hands of our target. And rather than getting them to just try the product, taxi got them to associate MiO with an experience they love, listening to music, while enjoying it with their friends. They didn't just talk about being original, they "Made It Original," earning credibility in the eyes of the people they were talking to.
CREDITS
Client: Kraft
Sr Director Marketing, Cold Beverages: Doug Pritchard Brand Manager: Joseph Mele Associate Brand Manager: Vivian Lee
Agency: Taxi
Executive Creative Director: Jeff MacEachern Associate Creative Director: Mike Blackmore Writer: Mike Blackmore Art Director: Dan Cantelon Production Designer: Jon Barnes Developer: Bob Blevins Integrated Producer: Raj Dhillon Digital Producer: Lindsay Barrett Print Producer: Laura Dubcovsky JR Print Producer: Phu Pham Mac Artist: Dave Kinsella Retoucher: Andrew O'Driscoll Managing Director: Daniel Shearer Account Director: Leanne Goldstein Account Manager: Stacy Ross, Andrea Wong Group Director, Technology: Ben Feist Digital Strategist: Sean McDonald Planner: Justine Feron
Digital Agency: Pixel Pusher
Chief Creative Technologist/Creative Director: Andrew Harris Technologist: Matt Wearn Creative Technologist: James Porter Creative Technologist: James Hackett Technical Director: Mike Linkovich Senior Animator: Sasha Zivanovic Front End Developer: Andrew Tan Project Manager: Karen Reyes
Film Studio: Touchpoint
Executive Producer: Kevin Saffer Supervising Producer/Director: Josh Chaiton Technical Producer/Director: Sumit Ajwani Live Action Director: Matt Eastman Director of Photography: David Suddaby
Editing House: Married to Giants
Executive Producer: Denise Shearer Editor: Skinner VFX: Trevor Corrigan
Sound Studio: Cylinder Sound
Owner/Producer/Director: Brad Nelson Musical Director: Brandon Unis Sound Engineer Musicians: Daniel Cantelon, Brad Nelson, Brandon Unis, Rob Greenway, Dave Godfry PR: Edelman Media Starcom Sampling: Mosaic
Have questions? Need help?