2015 Winners
Niche Targeting: GOLD
Digital Engagement: SILVER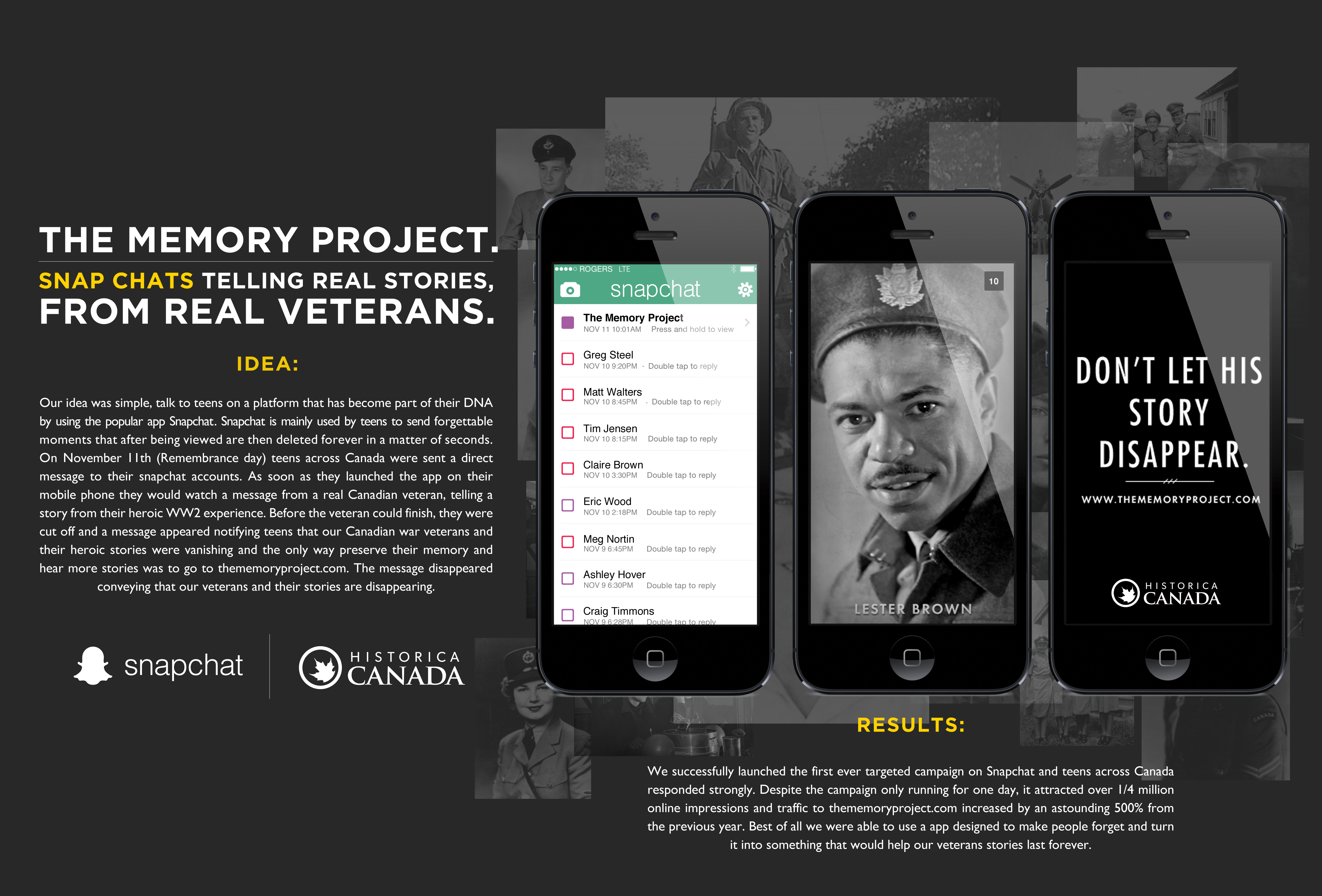 Historica Canada - Memory Project
Objective and challenge:
Historica Canada came to Rethink to help them raise awareness amoung young Canadians of an important initiative of theirs, Memory Project. Using first-hand accounts of veteran stories, Memory Project is an ongoing initiative that chronicles Canada's participation in the military arena. Participation in this project by young Canadians is vital to ensure the conversation continues. Their challenge was to find the right platform and execution to effectively reach Canadian teens and make them take notice.
Insight, Strategy, and the Idea:
Their idea was simple, talk to teens on a platform that has become part of their DNA by using the popular app Snapchat. Snapchat is mainly used by teens to send forgettable moments that after being viewed in a matter of seconds are then deleted forever. Rethink wanted to use the apps natural structure to land a memorable message to Canadian teens: that our war veterans are disappearing and with them, so are their stories.
On Remembrance Day, a day that Canada stops to remember what our veterans' did for their country, Rethink sent Canadian teens a message featuring real veteran's and their real stories. At the end of the 12sec video, they landed the message that Canadian veterans and their stories are disappearing. For the first time in Snapchat's history, the medium was used to land a message. And in this case, an important one.
Execution:
On November 11th (Remembrance Day) teens across Canada were sent a direct message to their Snapchat accounts. As soon as they launched the app on their mobile phone they would watch a message from a real Canadian veteran, telling a story from their heroic WW2 experience. Before the veteran could finish they were cut off and a message appeared notifying teens that our Canadian war veterans and their heroic stories were vanishing and the only way preserve their memory and hear more stories was to go to thememoryproject.ca. The message disappeared conveying that our veterans and their stories are disappearing.
Results:
As hoped for, the teen target was reached. And they got to hear the important stories from WW2 heroes. Website traffic went up substantially. With no other marketing initiatives going on, page views went up by over 500% from the previous year.
CREDITS
Client: Historica Canada
Creative Agency: Rethink
Creative Director: Aaron Starkman, Dre Labre, Chris Staples, Ian Grais Associate Creative Director: Joel Holtby Art Director: Joel Holtby Writer: Trevor Gourley Producer: Monika Ghobrial Designer: Joel Holtby Account Services: Caleb Goodman, Marie Lunny, Christina Festoso Audio House: RMW Music Sound Design/Engineer: Kyle Gudmundson Editing: Poster Boy Edit Editor: Steve McGregor
Have questions? Need help?