2015 Winners
AToMiC Collaboration: BRONZE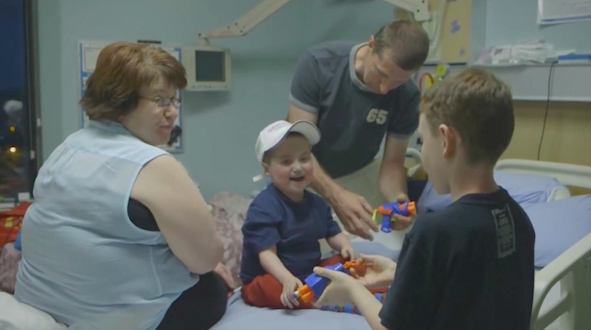 Ronald McDonald House Charities Canada - Father's Day Surprise
Date of Implementation:
Father's Day, June 2014
Objectives and Challenges:
While most Canadians know about or are aware of Ronald McDonald House Charities Canada, many simply do not know or understand the significant impact that Ronald McDonald Houses have on the families of sick children. Ronald McDonald Houses provide a place for families to stay while their sick child is being treated at a nearby hospital. Families are often thrown into chaos when their child is diagnosed with a serious illness. Almost three quarters of Canadian families do not live near a children's hospital, which means they need to travel far distances for their child to receive treatment. This can mean long drives, families being separated, and mounting costs. Ronald McDonald Houses allow families to stay together and heal as a family. The agency needed to dramatize the story behind RMHC to drive greater awareness understanding of this incredible cause, their mission and the vital role it plays with families in our local communities.
Insight and Resulting Concept:
There are two days in the year when families get placed in a special spotlight – Mother's Day and Father's Day. What better occasion to celebrate the importance of family? This past Father's Day, RMHC Canada and their long-standing partner WestJet, celebrated dad's everywhere and the importance of Ronald McDonald Houses by surprising one hard-working father, and reuniting a family at Ronald McDonald House Northern Alberta.
Execution:
Marc and Angela Grimard's youngest son, Joel, was being treated at Ronald McDonald House Northern Alberta in Edmonton for a congenital heart condition. Marc was forced to remain at home in Saskatoon with elder son, Mathieu while wife Angela stayed in Edmonton with Joel. A WestJet employee, Medel Villena, surprised Marc by taking over his job for five days so that he could fly to Edmonton to visit his son, Joel. This moving story was captured on video and widely shared. Along with the release of the video, WestJet and Ronald McDonald House Charities Canada made a very moving promise: For every 100,000 views the video received, another family would be reunited up to a total of 500,000. It didn't take long for this goal to be met, and WestJet was generous enough to extend this further. Ultimately, 14 Ronald McDonald House families, one from each House in Canada, were given a chance to be reunited with their loved ones.
Results:
The response was overwhelming. Within hours of being released, the video began to pick up momentum, reaching close to 100,000 views in just 24 hours with numerous heartwarming messages left in the comments section. Media coverage and comments on the YouTube page encouraged others to watch the moving video and to share it with their friends and followers. Over the following two days, the video of Joel and the entire Grimard family touched thousands, reaching close to 200,000 views in over 145 countries. As the number of views and shares of the video continued to climb, so too did the media pick up around the story.
After just 48 hours, close to 127 stories from both Canada and the U.S. generated over 55 million media impressions. Within 72 hours, there was a total of 186 stories generating over 72 million impressions. The video also reached just under 300,000 views in just a few short days.
After the first 12 hours of being released, social media platforms drove the awareness with close to 343 Twitter mentions that generated over 4.7 million social impressions. Astonishingly, after just 48 hours, there was close to 1,027 twitter mentions with an estimated 13 million social impressions. To date, the YouTube video has close to 1 million views.
Supporting Live URL https://www.youtube.com/watch?v=irxTbB_4y0g.
CREDITS
Agency: Cossette
Co-Chief Creative Officers: David Daga, Matthew Litzinger Creative Directors: Sean Barlow, Joe Piccolo Copywriter: Sebastian Lyman Art Director: Pepe Bratanov Agency Producer: Angy Loftus Account Supervisor: Lindsay Magrane Group Account Director: Carolyn Scharf SVP National Account Leader: Valerie Swatkow
Production:
Production Company: Sons & Daughters Director: Jake Kovnat DOPs: Jake Kovnat, Andy Ferriera Producers: Jeff Darragh, Scott Houghton Editing House: Soda Post Editor: Jason Grebski (Soda Post) VP Executive Producer, Content Production: Sarah Bogue (Soda Post) Music House: Silent Joe Inc.
Partner Agencies:
PR/Communications Agency: Citizen Relations Media Agency: OMD
Clients:
Ronald McDonald House Charities: Cathy Loblaw, President and CEO RMHC Canada WestJet: Jenifer Badry, Team Lead Community Investment; Corey Evans, Manager, Sponsorship, Community Investment and Experiential Marketing
Have questions? Need help?