2015 Winners
AToMiC Engagement: BRONZE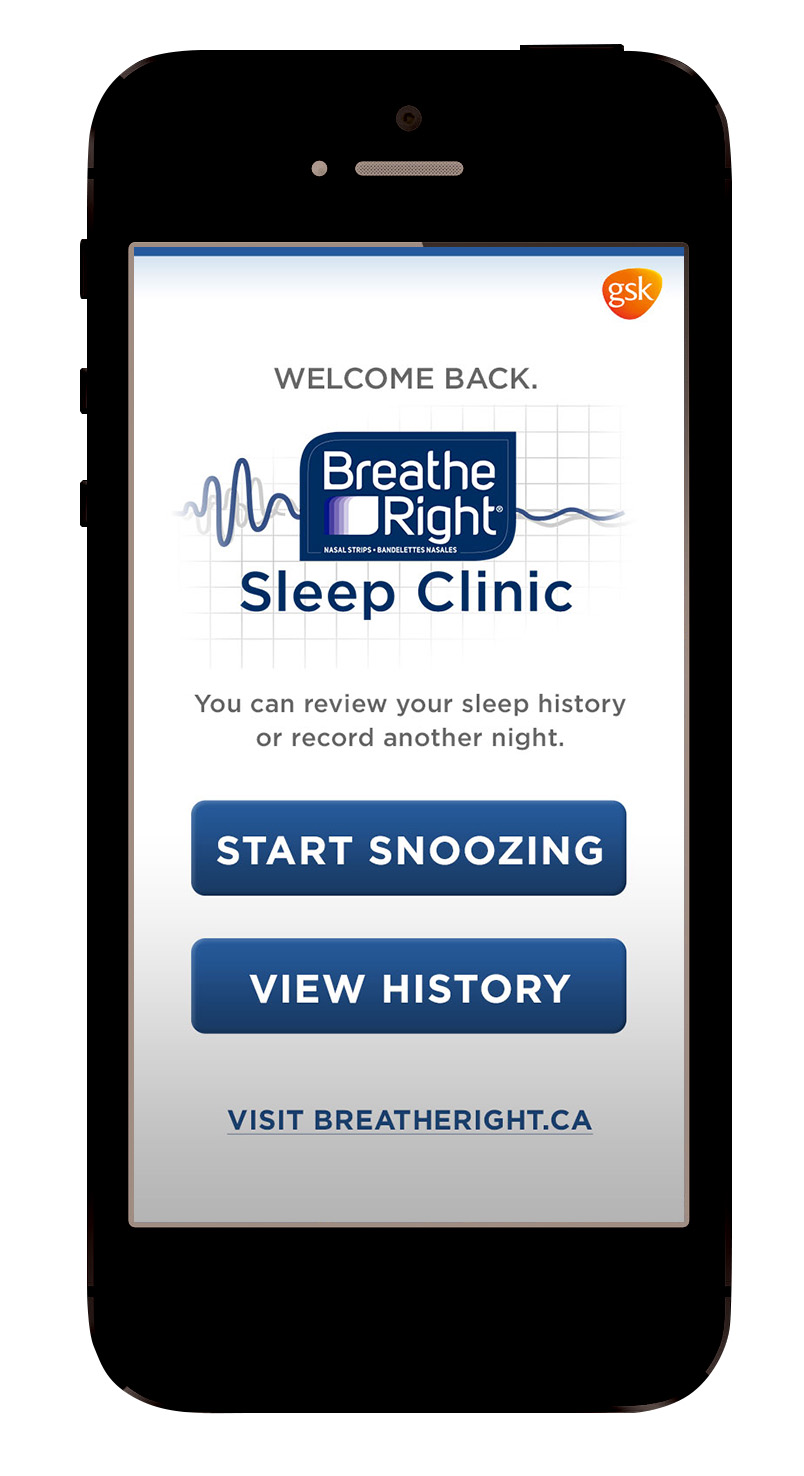 Breathe Right - SleepWise
Date of implementation or launch:
April 24, 2014
Description:
Breathe Right 'SleepWise' mobile app – an innovative bedside sleep monitor you can download to prove that your bedmate snores. Every download of the app then receives a free trial Breathe Right nasal strip to help them stop snoring.
Objectives and challenges:
Breathe Right nasal strips helps reduce or eliminate snoring. However, one of the biggest purchase barriers the product faces is 'snorer denial' – many snorers don't believe they snore, or are unaware of the impact it has on their bedmate. So GlaxoSmithKline created the Breathe Right Sleep Clinic; a mobile bedside sleep monitor that actively listens for decibel level, peak snore and even warnings for possible sleep apnea. Whether you're a snorer yourself – or share a bed with one – Sleep Clinic shows the impact snoring has on the quality of your sleep and more importantly, how using Breathe Right nasal strips can help.
Insight and resulting concept:
GlaxoSmithKline wanted to create a mobile tool that could provide the tangible proof these 'snore deniers' needed to make a change for the better so that they could breathe right and sleep right.
Execution:
In the first stage, Breathe Right reaches out to hundreds of "victims" of snoring (bedmate of snorer) across Canada through social media and field recruitment. The victim downloads the Sleep Clinic app and puts it out after the snorer falls asleep. Snore samples are recorded and then used to create custom radio & digital ads that call out the snore denier on his or her favorite radio station or website for the entire world to see. This mass ad campaign drives all snoring suffering couples to go online and download the Sleep Clinic app (via pin code access) and opt in for a free trial of Breathe Right nasal strips. Sleep Clinic launched in March 2014 and is ongoing.
Impart results and impact:
In the first month from those snoring suffering couples who downloaded the Breathe Right Sleep Clinic mobile app, 90+% opted in for the free trial of Breathe Right nasal strips. For the mass campaign, there was a 30X higher click-thru rate (CTR) than the Canadian average of 0.09% amongst featured snorers who saw their name/snore displayed (for digital ads), performing well beyond the top 1% of all digital ads. Amongst the general public who saw the digital ads (everyone else other than the snorer featured), there was a 9X higher CTR than the national average.
CREDITS
Client: GlaxoSmithKline / Breathe Right
Chief Creative Officer: Patrick Scissons Art Director: Todd Lawson Writer: James Ansley Agency Producer: Jay Gammy Director of Technology: John Breton Creative Technologist: Daryl Brewer, Mark Brombacher Account Team: Patty Moher, Darlene Remlinger Digital Production House: Bespoke Partners Technology: Brian Steinhauser, Thomas Blackmore, Jeff Laughlin, Angie Boddy
Have questions? Need help?