2015 Winners
Print Engagement: SILVER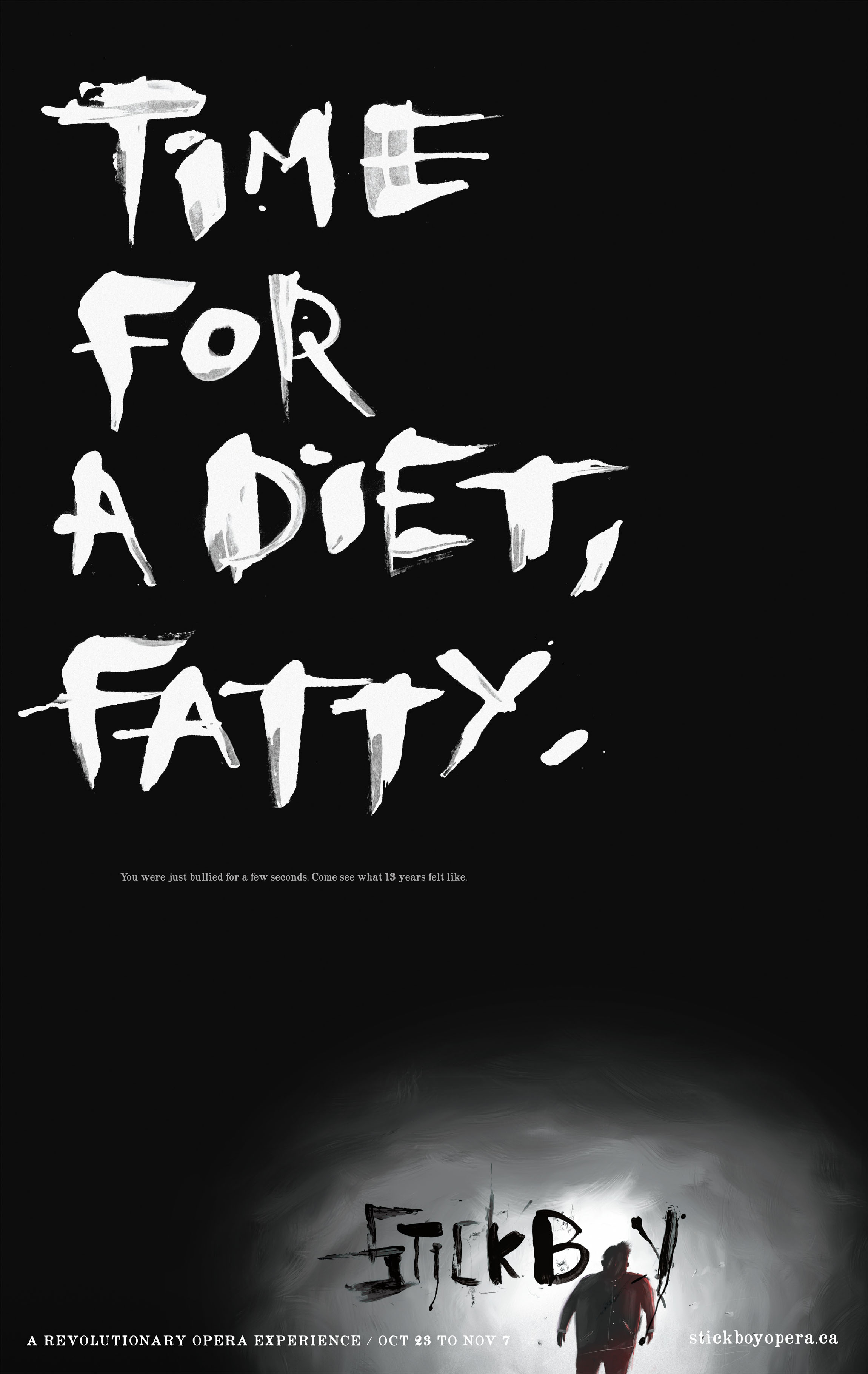 Vancouver Opera - Stickboy
In market dates:
September 15 – November 10 2014
Challenge:
Like many arts institutions, Vancouver Opera's (VO) funding and patrons are literally dying off and it needed to attract new and younger audiences. To revolutionize the opera experience, VO developed a modern new work called Stickboy, which tells the emotional story of bullying using spoken word, multi-sensory set design, and animation. The challenge was to promote the contemporary work in a way that was relevant to this new audience and drive advocacy for the show and ticket sales.
Insights & resulting concept:
In researching opera's roots to determine its relevance to patrons over time, the concluding insight was that opera originated as an underground movement for artists to share political and topical stories. DDB's communications had to spark conversation around bullying and revive opera's role in expressing today's important issues.
Investigating where the target engages with such stories, it was discovered that street art plays a similar role in today's culture. Merging street art with opera may feel dichotomous, but this unexpected perspective made the media relevant and demonstrated that Stickboy was not a traditional opera. Simply telling people this was an opera about bullying risked lumping the show into the wash of anti-bullying PSA messaging. Instead, the campaign set out to trigger the same feeling they would experience during the show.
Execution:
Mural spaces in high visibility areas were handed over to four street artists to share Stickboy's story and their own experiences with bullying, to demonstrate everyone has the potential to be a bully. Each mural was tagged, "There's a monster in all of us," and encouraged people to visit www.stickboyopera.ca to learn more. Online, people could explore each mural, read how each artist had been affected by bullying, contribute their own stories and purchase tickets. Additionally, provocative posters confronted passers-by with aggressive statements like, "Time for a diet Fatty" and other lines from the libretto. The copy triggered reflection and drove curiosity into what Stickboy was about. The creative, and user-generated stories were shared through VO's social channels with #stickboyopera. Media outreach was conducted to raise awareness for the murals and the revolutionary nature of the new production.
Results:
Response to the creative was immediate and visceral. Stickboy generated 3 times the amount of social conversation than previous VO shows. The murals catalyzed the creative community, prompting a gallery to host an exhibition of art that had been inspired by Stickboy and featured works from over 50 artists. PR outreach generated 16 million impressions, including the front cover of Vancouver's premiere arts & entertainment publication, and international coverage from influential blogs such as PSFK and Fast Company. Just the credibility Stickboy needed to be seen as innovative and intriguing to their target.
Most importantly, Stickboy successfully reversed VO's declining ticket sales by not only reaching its sales goal, but also exceeding it by more than 200 tickets. Opera houses across Canada are currently organizing a national tour of the show, generating a new revenue steam for Vancouver Opera.
CREDITS
Client: Vancouver Opera
Client Marketing Director: Doug Tuck
Creative Agency: DDB Canada
Executive Creative Director: Cosmo Campbell, Dean Lee Associate Creative Director, Art Director: Daryl Gardiner Copywriter: Geoff Vreeken Agency Producer: Erica Jonsson Account Director: Amanda Downs Type Illustrations: Fred Mazzola Digital Artists: Laurice Martin, Laurel Miller PR Manager: Paige Calvert Mural Artists: Ben Tour, Chairman Ting, Nick Gregson, Ola Vola Mural Support and Space: The City of Vancouver, Ameresco, Bomber Brewing, The Beedie Group Stickboy Animations and Illustrations: Giant Ant Media Agency: OMD
Have questions? Need help?