2015 Winners
AToMiC Grand Prix (Cause)
AToMiC Idea: GOLD
AToMiC CSR: GOLD
AToMiC ROI: GOLD
Broadcast Engagement: GOLD
Transmedia: BRONZE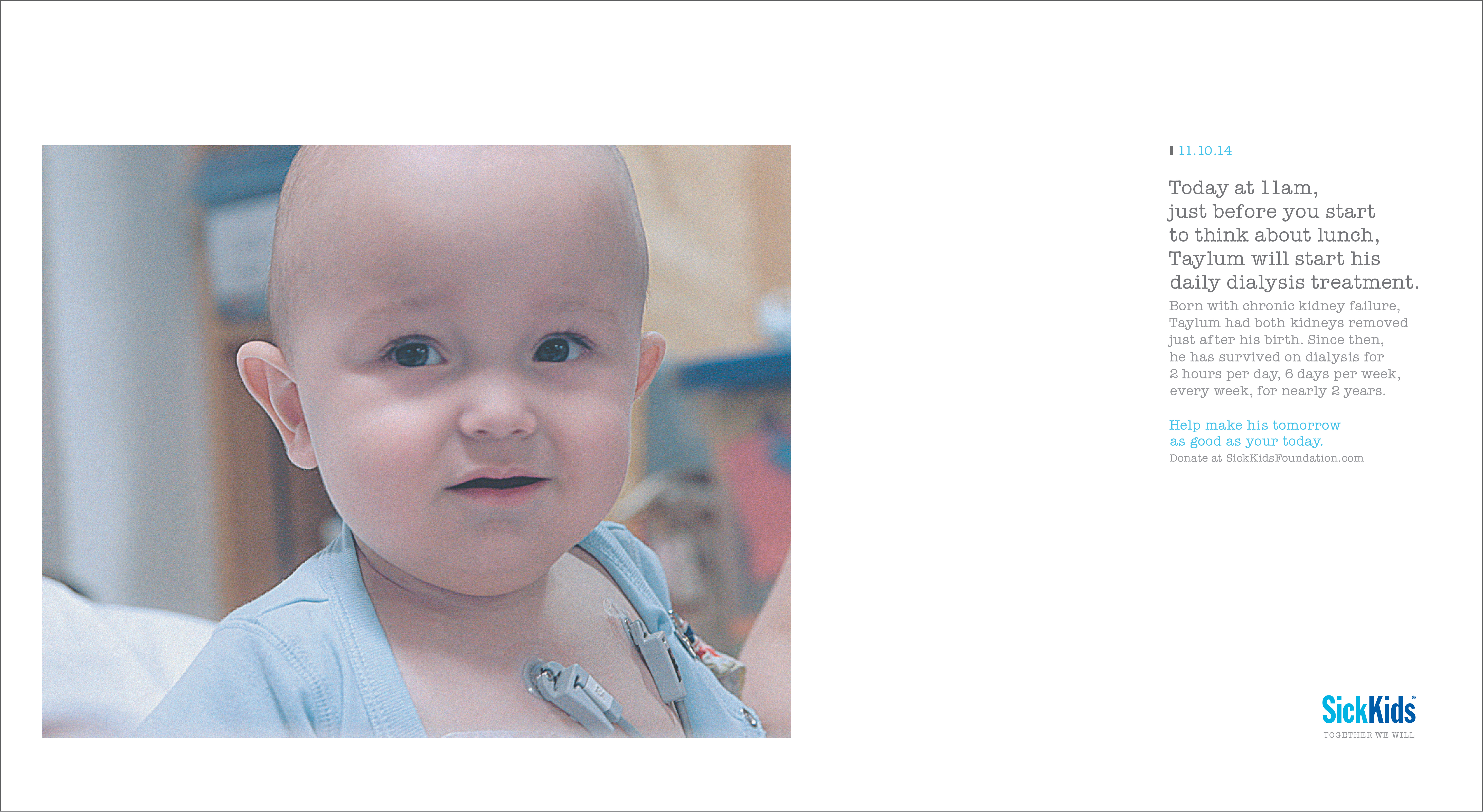 The Hospital for Sick Children - Better Tomorrows
Date of implementation or launch:
November 7, 2014 – December 23, 2014
Objectives and Challenges:
The Hospital for Sick Children, in Toronto, Canada, is among the world's leading health care facilities for children. But like most charities, it can be overlooked during the hectic holiday season. They had to find a way to get people to take time out of their busy, stressful, tiring day to take notice and make a donation.
Insight and concept:
We all have busy lives and it's easy to get caught up in our own problems. But things can always be worse. Sometimes we need a massive dose of perspective, like seeing what a sick child is going through, to put life into focus.
Execution:
For this campaign, JWT abandoned the traditional approach of a single commercial and adopted a timelier theme. For nearly two months, they ran a new commercial every day to remind people what was happening in the hospital right that minute - each featuring a new patient and giving a different view into the hospital. So as viewers were watching TV on November 10, they learned how Taylum, a 2-yearold boy, was in need of a kidney transplant. Or as they watched on December 4, they learned how 12-year-old Wahaab was literally in the middle of a 9-hour surgery to remove his colon cancer. There were many battles, victories, and losses, but they all carried the same message: "Help make their tomorrow as good as your today."
Results:
The campaign helped the hospital achieve the most social media engagement they had ever seen – 88 million impressions. But the real success came by way of donations. In December 2014, the hospital received the highest amount in donations for one month in the hospital's 42-year history, $37 million, exceeding the previous year by $8 million. But those weren't the only donations. Over 20 different media companies donated media, and the song "Fix You" was donated by Coldplay.
CREDITS
Client: The Hospital for Sick Children
Creative Agency: JWT Canada
Chief Creative & Integration Officer: Brent Choi Executive Creative Director: Ryan Spelliscy Art Director: Cindy Marie Habana Copywriter: Mike DeCandido VP Head of Integrated Broadcast: Andrew Schulze Senior Broadcast Producer: Raquel Rose Digital Team: Kevin Tam, Patrick Schroen, James O'Leary, Rob Emlay, Joe Szabo Account Team: Neil MacLellan, Sarah Leveille Associate Creative Director: Andy Brokenshire
Production Team:
Director: Mark Zibert Production Company: Sons & Daughters Executive Producer: Joan Bell
Post-Production Team:
Post-Production Facility: Panic & Bob Editor: Michelle Czukar Assistant Editor: Laura McMillan Executive producer: Sam McLaren Transfer Facility: Alter Ego Online facility: Smith Online Artist: Andrew Hobbs Online Producer: Janice Rebelo Music House: Eggplant Audio Post Director and Music Supervisor: Adam Damelin Media Company: Mindshare
Have questions? Need help?